Music LED Table Lamp was used for Student, Office Worker, Living Room reading or working. No hurt for Eyes and keep the light was soft. 5V USB connect and with Bluetooth Player. The Table Lamp can play music by computer, mobile phone,etc.
Exceed business range mainly covers LED Light, Led Lamp , High Power LED Light, High Power Big LED Bulb Light, LED Panel Light, LED Ceiling Light, Led Tube Light , Eye Protecting Led Table Lamp,Body Sensor Led Bed Light ,LED Digit Display, LED Dot Matrix,etc. Music Led Table Lamp Spec: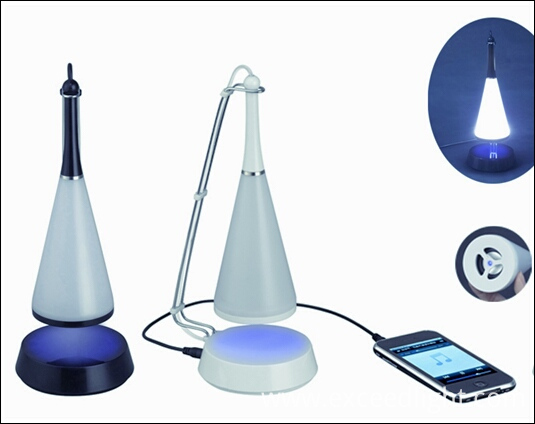 1.Soft LED Light
2.Sensor Technology to turn on/off the light.
3.Brightness adjustable by touching.
4.Supported by 3AAA and DC 5V/USB for Lamp.
5.Bulit-in Lithium Battery.
6.Sultable for all products with music player, Such as MP3, MP4,PC, Mobile Phone and so on.Mini. Bluetooth:1.Connect to the USB Cable (included) end to your computer. If you wish to charge wish a power adapter(not included) you may connect it to the audio port. 2.USB port or power adapter can be used for charging 2 hours. 3.Please charge immediately when light are not bright or sound becomes very dim. 4.A-O-B:Turn[A", Audio Speaker; Turn [O", Off Speaker; Turn [B", Bluetooth Speaker.Search to [SHS1118",then you can begin to play Bluetooth Speaker.